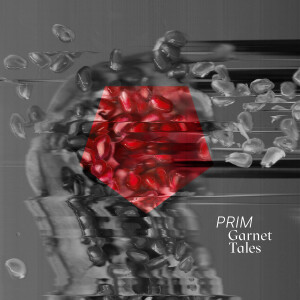 Vienna-based PRIM isn't the first or only ensemble to challenge the expectations of the piano trio format. But they're doing it with a lot of wit and intelligence, as we see on their latest release Garnet Tales. I see them operating in the same sphere as the highly popular American trio Bad Plus, and in some ways exceeding them.
Their lineup has changed a couple of times since their 2015 debut, with keyboard player Felix Biller the one constant through this latest release. On Garnet Tales the ensemble includes Martin Melzer on electric bass guitar and Christoph Karas on drums. Though there's plenty of melodicism here, they operate in a rarefied space when it comes to rhythm.
That becomes clear from the first note of the first track. While "Riverlude" is in many ways a classic piano trio vehicle, it also contains a plethora of rhythmic ideas from Karas and Melzer, while Biller dips in and out of pop, Latin, Baroque counterpoint, and more – an exciting preview of what's to come. Driving bass and drums come in on the downbeat of "Aleatory In Quint," before Biller enters with a laid-back motif on the Rhodes. Wait a minute, what was that title again? "Aleatory: relating to or denoting music or other forms of art involving elements of random choice (sometimes using statistical or computer techniques) during their composition, production, or performance," says Merriam Webster online. So what we have here is frequent changes in rhythm and melody, never letting you settle too comfortably into any expectation of what's to come next. Taking the traditional piano trio format, which reached its apex during the time of hard bop which drew heavily on the blues in straight-ahead four-beat time signatures, and applying some of the techniques of modern and post-modern classical music to it. "In Quint" I take to mean in five, and the first section does start off in five beats to the bar, but after that it's anything goes – maybe there are five main sections to the piece, but I keep forgetting to count because the tune itself throws me off the scent.
"Coffeebean Breakdown" is a more traditional trio piece, until Biller applies a wah-wah to the electric piano and it becomes a woozy slow-walking shuffle, that keyboard improvising over a shifting bed of bass and drums.
My favorite here is "The Town Of Undecided," which is, well, ballad-like. Acoustic piano, brushed kit, bass, but of course there's some tricky stuff that comes with the lovely melody. They walk it slowly, establishing the chordal structure and indeed the rhythmic structure (something like the alap section of a raga) and seemingly at random add an extra bar or two after each chord progression. Then things pick up when the piano solo starts and it becomes almost a straight-ahead tune.
Another thing that PRIM is doing that's unique in my experience is reaching out directly to their audience and explaining what they're doing. Gasp! Making jazz accessible to the masses! Maybe they normally do this in performance but nobody's performing live right now, so they're doing it via short videos on their Facebook. These are absolutely delightful! Pianist Biller reveals the technique and reasons for those pauses in "Undecided" in this video on Facebook. Karas talks about the way he uses "beat displacement" in the upbeat "The Tale Of Spanky McCurly" in this one. And Melzer talks about the origins of his bass riff and the entire tune "Mind And The Wind," on this one. This last one has another example of a type of beat displacement, he reveals, with his bass notes typically dropping slightly after the downbeat. Listening to this with that in mind, it's easier to see how they give the piece its feeling of airiness and a sense of one's inner state being affected by external factors.
Here's a performance video.
Oh, and don't miss the magnetic presence of saxophonist Victoria Pfiel on the final track "40 Days Reimagined," a poignant and pointed waltz. Since the final track often points to a future direction, might we expect a whole album with Pfiel or perhaps other players, a la Joshua Redman recording with the Bad Plus? We'll have to wait and see. In the meantime, I'm going to continue enjoying PRIM's musical and intellectual transparency on this gem of a release.
(self-released, 2020)