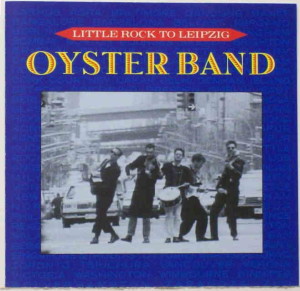 Amazon UK has a description for this album worth reading:  'A playful live album, 1991's From Little Rock to Leipzig finds John Jones, Ian Telfer, and crew in a boisterous mood, attacking songs of their own and others with raucous abandon and seemingly beer-fueled high spirits in front of an equally enthusiastic–and/or tipsy–audience. Interestingly, not too many of the album's 10 songs appear on the group's previous studio albums, and only 'The Oxford Girl' and 'New York Girls'–which is the fast and furious highlight of the entire set–are popular favourites with Oyster Band fans. This means that in many ways, From Little Rock to Leipzig is like an entirely new album instead of the career retrospective that live albums usually deliver. The strident 'Coal Not Dole' and a stomping 'I Fought the Law' are powerful performances, but it's Jones's tender rendition of Phil Ochs' 'Gonna Do What I Have To Do' that hits the right emotional buttons.'
Shall we count the errors? Well, the title's wrong, the year of release is off, and only part of the album was done live as the first fours tracks were recorded in October 1989 and January 1990 at Yard Studios, Southall, London with the fifth track recorded at The Church, Crouch End, London in January 1989 during the Ride Sessions All of these errors would suggest no one at Amazon gives a flying fuck about the accuracy of these entries!
Little Rock to Leipzig is, to my knowledge, is the only Oysters album that has a split between studio and live work. Now they've done a number of all live recordings, (Alive & Shouting (1996), Alive & Acoustic (1998), the 25th Anniversary Concert DVD (2004), and Northern Light (2006) to be precise, and not to forget the Oysterband and friends on The Big Session — Volume 1 taken from their first venture into festival organizing. So indeed Little Rock to Leipzig is a rather unique creature!
Featuring a cast of delightful musicians (John Jones on lead vocals, melodeon, and caller (!) on Track 10, Ian Telfer on fiddle, Alan Prosser on electric guitar and vocals, Russell Lax on drums, and Chopper on bass guitar, electric cello (!), and vocals), this is not a terribly angry recording as it has a more folkish feel than later affairs did.
If for no other reason than to hear Jones calling what the back cover helpfully suggests is the Cornish 'Six-Hand Reel' on 'Red Barn Stomp', you really, really need to hear this album! Pity there's no video of this work I know of, but I did find the promotional video done by RKO video for 'New York Girls' off this album, a trad song arranged by them with an infectious dance beat to it that's quite brilliant. You can see it thisaway. ' Oxford Girl' is here again — It was on Wide Blue Yonder and is on their newest album as I write these notes, The Oxford Girl and Other Stories.
I'd forgotten how bloody good this album was until I re-listened to it in prep for this review. My favourite cuts are first and foremost the two trad cuts, 'Johnny Mickey Barry's' and 'Salmon Tails Down The Water' and the previously mentioned 'Red Barn Stomp', plus their cover a Phil Ochs' song, 'Gonna Do What I Have To Do', but really everything's damn good here.
(Cooking Vynil, 1990)