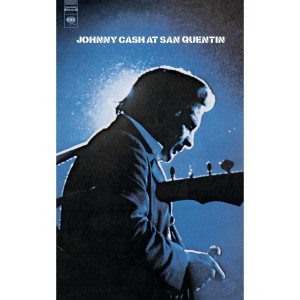 In the late 1960s, Johnny Cash was on a roll. He was finally getting his life together after a disastrous decade of drug abuse which led to lots of legal problems, a divorce and a growing reputation as an erratic performer who was as likely to trash the venue as to entertain the paying customers. But now his longtime love, June Carter, had married him, he was well on the way to sobriety, his At Folsom Prison album was one of the biggest hits of 1968, and he'd been asked to host a TV variety show. How to follow up on the success of Folsom?
Do another live prison album. This time at the even more notorious San Quentin. On the strength of a novelty-song single, Shel Silverstein's "A Boy Named Sue," San Quentin again rose to the top of the country and pop charts, completing Johnny's rehabilitation as an entertainer.
At San Quentin has been re-released and repackaged already a time or two. This is the deluxe Legacy Edition, a three-disc set that includes a DVD with the British TV movie made from the performance, and the entire concert, with a bunch of tracks never before officially released, on two CDs. From the introduction of Carl Perkins and his rockin' rendition of his signature hit "Blue Suede Shoes" to the closing medley of songs from the already legendary Folsom performance, it's all here, with the apparent exception of a song or two on which the tape ran out in mid-song. It's in one of those tall box-set boxes, which also contains a lovely book with copious notes, including an interview by Marty Stuart of Merle Haggard, who was present as an inmate the first time Johnny and band played San Quentin, in 1958; and reminiscences penned by June Carter Cash in 2000. Main note-writer Sylvie Simmons reveals something I didn't know, that the iconic photo of Cash giving the finger to the camera was taken at this gig, when a British TV cameraman wouldn't get out of his face. "They're getting between me and my audience," he said.
And that's what it was all about for Cash, and it comes across loud and clear in this performance. The songs that were on the original 1969 release are all here, and they comprise partly a "greatest hits" overview of Cash's career ("I Walk the Line," "Folsom Prison Blues," "Ring of Fire," "Big River," "Orange Blossom Special" and "I Still Miss Someone"), with a few of his more contemporary hits such as his duet with June on "Jackson" and John B. Sebastian's "Darlin' Companion." To those, he added a couple of new songs in addition to "Sue" – "Wanted Man" which he co-wrote with Bob Dylan, "Blistered" which would appear on his 1970 album Hello, I'm Johnny Cashand "San Quentin," which he wrote specially for this performance. This last is an underrated masterpiece of Cash's songwriting, perfectly capturing the attitude of an inmate toward this dehumanizing institution. The inmates liked it so much they asked for it again, and he obliged, and the second time through you get a better feel for the song because he doesn't have to stop for the cheers after each line. Cash always worked spiritual songs into his performances, and the ones in this show are top-notch, particularly the Rev. Thomas Dorsey's "Peace in the Valley," with angelic contributions from the Carter Family.
The extras are pretty nice, too. Perkins and the Statler Brothers help warm up the crowd with "Blue Suede Shoes" and "Flowers on the Wall," respectively, the Carters do lovely versions of Tom Paxton's "The Last Thing on my Mind" and their signature "Wildwood Flower," then come back for John D. Loudermilk's "Break My Mind." In the second half of the show, Perkins sings his own "Restless" and smokes on an instrumental, "The Outside Looking In." The Statlers also sing another one, Glen Campbell's "Less of Me."
One small note: I appreciate the lack of the censor's bleeps, particularly on the payoff line in "Boy Named Sue." Thanks to Legacy for restoring the concert for an adult audience, and there's no chance of this being played on country radio these days, that's for sure.
The DVD is a curious thing. All in all, it's an excellent document of the concert, but the introduction is decidedly odd. A Brit narrator intones about the history of America's wild west over footage culled from B western movies – I'm not sure what the point is, whether it's to make Cash out to be a cowboy singer, or to blame America's strain of rugged individualism for the lifestyles and attitudes that led these men to prison. Fortunately it's fairly brief, and soon we see Johnny and June filing through the prison gates and the concert starting. Scenes from the concert, including the entire performance of "Sue," are interspersed with footage of prison life and inmate interviews.
This set is an excellent document of Johnny Cash at the top of his career. If you got interested in the man and his music from watching the 2005 biopic Walk the Line, you should check out San Quentin for a look at the real thing. As far as that goes, it's the best thing we have from this period of his career until The Johnny Cash Show is finally released on DVD.
(Legacy, 2006; original release 1969)