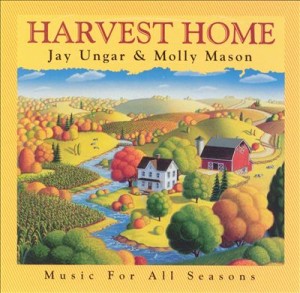 Brendan Foreman wrote this review.
Most famous for their sparse yet sublime fiddle tune "Ashokan Farewell," the eventual theme to Ken Burns' Civil War series, Jay Ungar and Molly Mason are seasoned veterans of the old-time circuit. Besides being excellent musicians (Ungar on fiddle, Mason on guitar, piano, et al.), they're also accomplished composers and arrangers, as their work for many of Burn's post-Civil War project attests to.
Now, with their 1999 release Harvest Home, they have given themselves a new challenge. Arranging a set of tunes from the broad variety of American rural music traditions, designed to celebrate the seasons and labor of farm life, they also decided to try their hand at incorporating these folk themes (both original and traditional) into an orchestral piece called "The Harvest Home Suite." The result is a beautiful, surprising complex CD which showcases the many rural traditions of the United States while, just as Ungar and Mason hoped, giving all of these pieces a new energy.
The theme of the CD is set immediately with Molly Mason's country song "Bound For Another Harvest Home." This pretty song is a simple tribute to the life of the farmer and played with a minimal backing of musicians: Mason on guitar and vocals, Ungar on fiddle, Steve Rust on bass, and Ruth Ungar on backing vocals.
From here, Ungar and Mason proceed to tour the American musical landscape, sampling its many rural sounds.
For the New England sound, they play a set of very dance-able contra dances called "The Farmer's Set" with of Jeremiah McLane on piano accordion, Keith Murphy on mandolin, and Harry Aceto on bass. These standards (among them, "Speed the Plow" and "Swinging on a Gate") are played with verve and drive.
Jay Ungar's waltz "Prairie Spring" is his beautifully sprawling tribute to the West. The harmony fiddle of John Kirk and the bass of Steve Rust give it a relaxed, almost Western Swing bounce.
The South is represented by an old-timey tune called "Haymaker's Hoedown." For his tune (written by Jay Ungar), Ungar and Mason are joined by Dirk Powell on banjo, Kevin Wimmer on fiddle, Ganey Arsement on bass and Gary Burke. Of particular note here, are the double-stopped, almost screeching fiddles that Ungar and Wimmer play simultaneously throughout much of the tune, giving it that proper Southern edge.
A 15th-century German melody called "Thanksgiving Carol" shows up as "Solstice Hymn." A sombre piece played by a string quartet consisting of two fiddles, a cello and bass, this tune recalls Pennsylvania Dutch rural music. It is immediately followed by a lilting, Scandinavian-American version of the ubiquitous "Thanksgiving Waltz." Both of these pieces are played with beauty and lushness.
Various members of the Cajun band Balfa Toujours join Mason and Ungar to play "La Chanson de Mardi Gras." Starting slowly, it quickly jumps into a rollicking reel with singing by chanteuse Christine Balfa. There's a slight tinge of melancholy to this song celebrating the arrival of spring.
Almost as a warm-up to the orchestral pieces up ahead, the duo try their hand at an Aaron Copland piece in their medley "Bonaparte's Retreat Hoedown" from the ballet "Rodeo." It's a stirring, rather erudite piece, snippets of which all of us in the States have heard before (it's the music in the recent spate of "Beef: it's what's for dinner" commercials). Ungar expertly sandwiches two other fiddle tunes in the middle of this set, highlighting both the similarities and differences of the various tunes. The result is a new, very intriguing piece of art which contains some of Ungar's most amazing fiddle-work on this CD. It's a real treat to hear a current artist so admirably transform and enhance a previous master's music, while still respecting the original ideas of the piece.
It seems that it is impossible for Ungar to resist the temptation to put another version of his most famous piece "Ashokan Farewell" in most of his CDs. This is a fine version building up from the simple fiddle and guitar work of Ungar and Mason to a full orchestra, although I've always been partial to the version by Dave Grisman, Daniel Kobialka, and Jerry Garcia on the CD Common Chord.
The highlight of this CD is, of course, Ungar's and Mason's foray into orchestration with their amazing five-part composition, "The Harvest Home Suite." With help from composer Connie Ellisor, this piece was imagined as a musical representation of the year-long cycle of farm work from harvest to harvest.
The orchestration is not particularly complicated or sophisticated, but neither is the subject matter. However, for all its ostensible musical naivete, this suite cleverly revisits and reinterprets many of the musical themes from the previous tracks of the CD, (among the revisited tunes are the "Thanksgiving Waltz," "Mardi Gras," and "Prairie Spring), making the structure of the entire disc a little more complex than it first appears. As a whole, this suite comes across as a beautiful musical monument to the hard-labor and good times that make up the life of the farmer.
Beginning the "Overture," which consists of the primal, mostly orchestral "Fertility Theme" followed by a spritely version of the traditional fiddle tune "Harvest Home," the suite moves into an orchestral version "Thanksgiving Hymn," which represents Autumn. Following the cues of the Aaron Copland set that they played a few tracks before, the orchestration here is lush and quite beautiful as they play this sombre yet thankful piece.
The Winter set begins with the atmospheric, eerie orchestral piece called "The Solstice," representing presumably the land as it lies to sleep for the season, blanketed by snow. However, we see that spring is just around the corner as this set ends with a fast, joyful fiddle version of the song "Mardi Gras."
Spring arrives with the beautiful, orchestral piece "Prairie Spring," representing the emerging life of the prairie fields. Finally, summer comes bouncing in with a syncopated yet steady version of "Wind that Shakes the Barley." The suite ends with the rousing tune "Barn Dance," a celebration of another successful year.
This is an amazing CD that manages not only to pay tribute to the rural style of life but the entire field of American traditional music as well. Ungar and Mason have created a unique blend of orchestral and folk music that manages to preserve the integrity of each style while enhancing each other.
(Angel, 1999)