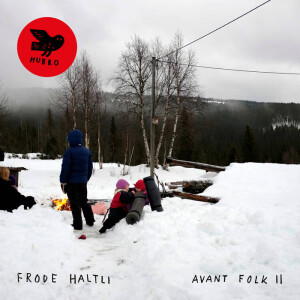 I've been enamored of the music of Norwegian accordionist Frode Haltli since he appeared as one third of the Snowflake Trio at Celtic Colours International Festival in 2013. In that group he, Irish flautist and singer Nuala Kennedy, and Norwegian hardanger fiddler Vegar Vårdal played their jazzy hybrid of Irish and Nordic folk music. It was my favorite performance of that superb festival. Haltli's musical ideas and accordion playing are unbounded by genre, blurring the lines between folk, jazz, classical, and avant garde. Since 2002 he has released several "solo" recordings on ECM, Hubro and other labels, and recorded and toured with the experimental chamber trio POING, as well as with Trygve Seim and others. Avant Folk II is the follow-up to 2018's Avant Folk I, both recordings involving a largish ensemble (10 players) on a mix of acoustic and electronic instruments: drums, bass, two guitars, two winds, two fiddlers, organ/synthesizer, and himself on the accordion.
Quick take: it's great!
The album's four tracks explore folk themes in ways that reflect folk, jazz and avant garde idioms. And they're clever, did I mention clever? Like the first and shortest at just under 9 minutes, "Doggerland." It's named for the shelf of land under the relatively shallow area of the North Sea between the British Isles and Scandinavia, which (like Beringia on the other side of the world) was exposed and settled by humans for thousands of years during the last glacial maximum. So appropriately, this piece consists of a Celtic style jig with Nordic influences. Its main theme is a lovely, catchy tune that I've found myself whistling or humming as I go about my daily routine. It opens with a long intro section in which Haltli plays all around but never actually states the melody while guitarists Juhani Silvola and Oddrun Lilja Jonsdottir pluck out the jigtime rhythm, with some occasional beeps and flourishes on synth and B-3 organ from Ståle Storløkken. Little by little, additional instruments are added including Erlend Apneseth's hardanger, the melody kicks in, and the whole ensemble is playing joyously – and then the whole thing abruptly falls off the continental shelf into deep water as it were, a freewheeling improv section of burbling synths, drones, far away distorted foghorns and ship's bells, maybe some distant whale song. Fiddler Hans P. Kjorstad eventually comes to the fore and leads us back to the melody and the finale.
"Nordlys," or Northern Light, is 10 minutes of comforting if cool Nordic folk rock, originally composed as theme music for the 2013 German film Nordland. Much of it consists of a duet between Haltli and trumpeter Hildegunn Øiseth, who has a subtly dramatic solo, followed by a languid duet with Haltli's twining accordion line, backed by a growing cascade of arpeggios and drones from the rest of the ensemble. Haltli has a lengthy improvised solo through the middle section, and the electric guitar adds textures and colors you'd expect to find on a Bill Frisell album.
My favorite piece, "Gravberget," is named for a village near where Haltli grew up northeast of Oslo. Plucked violin and bowed violin intro, bass comes in, hardanger slowly circles around as it approaches the melody line as more and more ensemble members enter, then it suddenly begins, the lopsided dance. With many meandering excursions along the way, where several of the ensemble members sing wordlessly along with the melody line offered by the hardanger or accompany Haltli's accordion improvisations. The polyrhythmic foundation set up by bass, drums, percussion and even voices call to mind West African music, as the performance gradually rises to a crescendo that is picked up and carried higher and higher by Oddrun Lilja's psychedelic electric guitar solo. Here it abandons anything that the traditionalists would feel comfortable calling folk, so I guess that's the "avant" part!
Saving the longest for last, the 11 minute piece "I Østen som i Vesten (All over the Place)" is just that. There are bent notes and close harmonies on the fiddle that evoke Arabic maqam (as does some of the percussion), there's a section of either a bass clarinet or baritone sax interacting with Haltli's accordion, a lengthy section of ponderous melody involving winds, strings, vocals and goat horn, which launches into a solo section that at times evokes Middle Eastern wind instruments like shawm or mizmar – maybe a sopranino sax? And one of the guitarists has another electric solo, which could be dropped onto most any Frank Zappa record and not be out of place, especially with Rolf-Erik Nystrøm's bari sax interjections we get here.
This music was originally commissioned for the 2019 Vossa Jazz festival in Norway, and at least one reviewer said it was the best part of that festival. I can well believe it. I'd love to see such a thing, but in the meantime, this recording will do very nicely.
(Hubro, 2021)