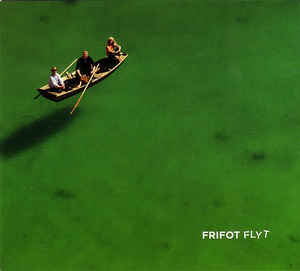 We have been fans of the Swedish folk-jazz ensemble Frifot for as long as I can remember. We have all of their CDs, as well as quite a few CDs on which one or more members of the group perform including Agram, Enteli, Nordan and Reisaren). We've seen Frifot live twice, and have also seen (and reviewed) a performance featuring Frifot member Ale Möller with Scottish violinist Aly Bain.
So of course we got a copy of the latest Frifot offering, Flyt, as soon as we could. It's a very nice treat, from a group that never fails to satisfy. Flyt runs nearly an hour long, and features a total of 20 tracks, varying in length from just over a minute to just over five minutes. On the continuum between folk and jazz that this group occupies, I would put this closer to the folk end. It's actually quite mellow — and please don't take that to mean it's boring, because it's definitely not. Lead vocalist Lena Willemark seems less inclined than usual to explore the higher registers of her always astounding vocal range. Möller and the group's third member, fiddle player Per Gudmundson, sing very harmonious backup vocals on a number of tracks, giving the songs a richer sound than I usually associate with this group.
But I would venture to say that well over half the tracks are instrumentals, that marvelous blend of strings, horns and flute sounds for which Frifot is well known and appreciated. On a couple of the tracks, where strings predominated, I thought of that other great Swedish band, Vasen.
The CD is packaged in one of those paperboard fold-up cases, predominantly green in color, with the trio pictured sitting together in a tiny rowboat. The liner notes, such as they are, are tucked into a little pocket in the flap that opens up. Although most of the liner notes are in Swedish (which I don't read), I found brief descriptions of the tracks in English at the back of the booklet. They confirm my sense that these are traditional tunes, carefully collected and arranged by members of the group. Most of the instrumentals are dance tunes — polskas, schottisches and waltzes. The lyrics come from interesting places; for example, 'Kappa Gra' ('Gray Coat' in English) was written by Charles D'Orleans, a member of the French royal family in the 1400s. 'Min Sol' ('My Sun') came from Michelangelo Buonarotti, the Italian Renaissance painter we know primarily by his first name.
This music would make a memorable background for a retrospective exhibit of Carl Larsson's paintings, especially for the gala opening, with people standing around nibbling on yummy Swedish pastries and drinking spiced punch. If you can't manage that, how about a winter holiday brunch with friends?
(Amigo Musik, 2007)