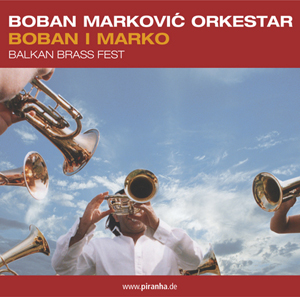 There seems to be, in the Gypsy tradition of Serbian music, an affinity for Western jazz. This does not mean that the music performed by the Boban Marković Orkestar is jazz, but simply that jazz wanders in and feels very much at home. What the music is, is lively, often exotic, and yet somehow familiar.
Boban i Marko features a group of mostly traditional songs from the south of Serbia, fourteen tunes that range from the rollicking opener, "Balkan Fest," complete with its marked "oom-pah-pah" rhythm, through "Southern Comfort," a mellow, fluid piece with surprises in tempo and melody. There is even a samba, Serbian style. One of my favorites is "Mere Yaara Dildara," a song by A. R. Rahman, that seems to sum up the disc quite well: vivid, lively, with a catchy, syncopated beat and a lot of very good horn playing (and a strong infusion of jazz elements).
There is a kind of "big band" sound to this music – one can almost see Harry James center stage – at least until the orchestra is joined by Frank London's Klezmer Brass Allstars for "Magija" ("Magic"), which somehow covers territory from the north of the Black Sea to Iberia and points in between. Then the sound becomes something else, not quite forties Swing, not quite cool jazz, not quite "ethnic" in any recognizable sense – just delightful, catchy music, at home anyplace. The last two cuts, "Biseri Srbije" (parts 1 and 2) finally come home to what I was expecting: that blend of Europe and Asia Minor that somehow says to me "the Balkans." And yet even here there are touches of jazz horn work, not to mention passages that approach Western avant garde art music.
Lest there be any doubt, the Boban Marković Orkestar is a hot item in Serbia, and has a strong reputation throughout Europe: a regular winner at the Guca Festival in Serbia (billed in the notes as the "Woodstock of Brass Music"), the orchestra doesn't compete any more: they are featured players. A recent addition to their ranks is Boban's son, Marko, who at age sixteen (as of this recording) is an extraordinarily accomplished musician – the duet on "Bugarcica" between father and son is dizzyingly fast and flawless.
This one is, in a lot of respects, an eye-opener: expectations of music coming from the Gypsy traditions of the Balkans (mystery, a hint of the Orient, flavors of the fabled East against a background of wild mountain melodies) get tossed right out the door. So be it.
(Piranha Musik, 2003)