Various artists' The Rough Guide to Afro-Cuba
Lucky Dube's The Rough Guide to Lucky Dube
Various artists' The Rough Guide to the Music of Nigeria & Ghana
Various artists' The Rough Guide to the Music of Haiti
Jennifer Byrne wrote this review.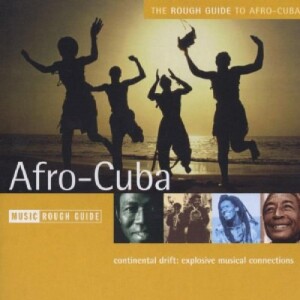 The following are reviews of a random but varied selection of the Rough Guide catalogue. Sometimes extremely specific in their subject choice, sometimes considerably more general, the thing that stands out most about this collection is its no nonsense approach. The music appears to be chosen for its indisputable value and standing within the particular tradition or genre. The albums are presented without fuss or gimmick, but will always be winners, thanks to the quality of music. Within this bunch of albums alone, names such as Lucky Dube, Manu Dibango, ET Mensah, Cheikh Lo, Juan de Marcos Gonzalez, King Sunny Ade are commonplace, proving that these collections are truly representative of world music. It may be impossible to compress the musical history of entire continents onto one series of discs, but the Rough Guide collection comes infinitely closer than the majority of its predecessors.
The Afro-Cuban connection has long been acknowledged and exploited by musicians from both ends of the tradition. To narrow the concept down enough to come up with fourteen tracks is an impressive undertaking, and The Rough Guide to Afro-Cuba will not dissatisfy. Featuring snapshots of the sound from all perspectives, this album is as much a tool of comparative research as it is just great listening material.
First up is one of the greatest African performers on the scene today, Cheikh Lo. Taken from his second album Bambay Gueej, "M'Beddemi" presents an enticing sliver of the energy one can expect from a live Cheikh Lo show, incorporating the hectic roles of the percussionists with the honey-coated vocals of the man himself. "Rumba Makossa" represents Cuarteto Patria, with slick lead vocals by Eliades Ochoa and an unforgettable harmonic refrain. Manu Dibango also features on this track, and his light saxophone undulations twinkle throughout the song. We then take a trip down memory lane with Orchestra Baobab and Super Eagles in succession. Both legendary institutions, both still forging on in some form or other (Orchestra Baobab are recently enjoying something of a resurrection with the re-release of Pirate's Choice, while Badou Jobe, the original leader of Super Eagles, still tours incessantly as the leader of Ifang Bondi, winner of a 1999 Kora award).
Items of particular interest on the album are plentiful but a couple stand out. Lazaro Ros is regarded as a leading akpwon (singer) within the santeria tradition. His track here, "Yewa," an ode to the orisha of death, the queen of the underworld, is a rare glimpse into this practise. Legendary conga player Patato is responsible for an unusual experiment entitled "Kora-Son," a track that is exactly as the title suggests – a son, with a kora substituting the traditional role of the tres.
The impact of Cuban music on African and vice versa is massive and extremely difficult to define, so seamless now is the amalgamation. Whether you approach this album from a Cuban or African angle, you will surely find something to your taste.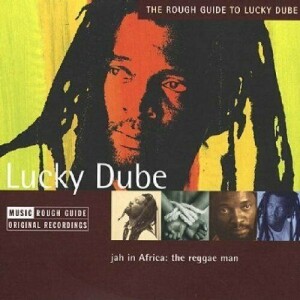 Lucky Dube is arguably the most successful African reggae musician. He certainly outsells all other solo African musicians, let alone African reggae musicians. Some go so far as to claim that he is the biggest-selling reggae artist in the world, but figures are unimportant in the face of this kind of talent. A rough guide to one of the giants of African music couldn't be more appropriate. The Rough Guide to Lucky Dube manages to trace Lucky's music from the smothering apartheid beginnings to the less inhibited later years.
Lucky Dube's brand of reggae is distinctive and inimitable, although over the years critics have pointed to the similarity of vocals with Peter Tosh, which is where that comparison ends. Lucky confesses that Tosh, among others, inspired him, but while Tosh was uncompromising in his lyrics, the former had to tread carefully because apartheid censors banned any songs which veered out of line. While Jamaican reggae is driven by bass and drum Lucky Dube's reggae is guitar and keyboard-led.
The first track, "Reggae Man," is taken from Lucky's first reggae album after switching from mbaqanga. As a reggae track, it is quite weak, but then, Dube was only learning the trade at that point, making the transition. "Slave," a beautiful melody with intuitive vocals, was a big hit in Zimbabwe and other African countries, possibly because of its stance against alcoholism and the accompanying ills. It is taken from the album of the same name, the first album ever in South Africa to smash the 300,000 sales barrier. "Together As One" preached unity in divided apartheid South Africa, and was, surprisingly, his first song to make it onto white radio play lists, while the very poignant "House of Exile" was a dedication to the then-imprisoned Nelson Mandela. It is truly on tracks such as this that Dube's origins radiate through – it is impossible to deny the heritage of such glorious harmonies and melodies.
Tracks from the late 1990s, "Crime And Corruption," "We Love It" and "The Way It Is" show a massive growth and maturity in Dube as a reggae artist. In adherence to so much of the music of the African continent, where music is a platform for observation rarely found elsewhere in society, "We Love It" and "Crime And Corruption" are social commentaries on the new South Africa and her continuing struggle. This is a far more confident sound than some of the earlier works, including further experimentation with instrumentation and vocals. Again, there are obvious links with the musical traditions of South Africa, and there are sporadic resonances of singers like Jabu Khanyile and Ringo.
This compilation leaves no doubt as to why Lucky Dube is the biggest African reggae artist. He combines all that is exceptional about the genre and cements it with his sensitive vocals and his own take on his surroundings. This rough guide takes one on a rewarding musical journey, as well as an exploration of a personal struggle, to be acquainted with Africa's own "reggae man."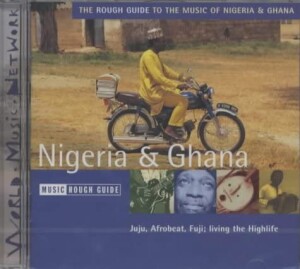 While the appeal of the compilation is, generally, waning more and more at the very sighting of yet another one, the Rough Guide series is constantly growing and gaining credibility, and has now become a must-have for serious world music lovers. The Rough Guide to the Music of Nigeria and Ghana is no different, although no doubt there would have been more than enough material for a rough guide to the music of Nigeria alone. On the other hand, the "competition" to make it onto a compilation of the best music to emerge from Nigeria or Ghana makes the result even more monumental. All the big names are present, (I.K. Dairo, E.T. Mensah, Tony Allen, King Sunny Ade), as are all the major regional styles, and the result is a veritable Who's Who.
Highlights are hard to choose as each track has clearly been selected for its pivotal role within the respective music scene, and so each and every song is a treasure. Moreover, how do you choose just one song from the career of, say King Sunny Ade? The result is bound to be a winner. Tony Allen's "Asiko" (a track that has appeared on a couple of compilations recently, including Manteca's "African Chill") is as smooth and funky as always. E.K. Nyame's "Bra Ohoho" (complete with typical Cuban clave) and Mensah's refined "Day By Day" are truly gems of illustration of the links between highlife and the music of the Caribbean. "Neribalankina," by the recently deceased Captain Yaba, is a truly multi-influenced work if ever there was one. The Habib Koite-like guitar is recommendation enough in itself, while the opening sequence smacks of Radio Tarifa, and the vocals have distinctively Arabic inflections. Agyeman's Congolese guitar-inclined "Matutu Mirika" is an example of the extent of the influence rumba and soukous have had on the music of Africa in general. The frenetic energy and rhythmic intensity of fuji is captured beautifully in the classic "Fuji Shuffle" by Adewale Ayuba.
There is not so much on this album to cause your attention ever to wander, but just enough to dip into and leave you sounding like you really know your fuji from your juju. There are grounds for the West African music connoisseur to argue that a compilation such as this is spreading itself too thin; nonetheless, for the newcomer and the curious, it represents a real cross- section of flavours. This album comprises so many styles, so many vibes, as to render it crucial for your collection.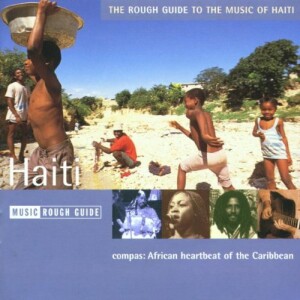 The human spirit is a wondrous thing. Haiti is officially the poorest country in the western hemisphere, a place where survival is something of an achievement. Running concurrently with this intense poverty is one of the most vibrant and colourful music scenes in the world, a heady concoction of African, American and Caribbean influences. The potion is bound to leave your head spinning – but in the best possible way.
Do not be surprised to find that a good deal of The Rough Guide to the Music of Haiti has very strong links to African music. It is said that by around 1800 there were eight times more Africans on the part of Spanish Hispanola known as Haiti than any other racial group. From the opening bars of "Gacon Bozo," Coupe Cloue could be, to the uninitiated, from somewhere in DRC, thanks to the soukous-tinted rhythms and the soukous-derived guitar style. Almost in the same breath, the rather old-fashioned keyboards conjure up images of slightly dodgy wanna-be stars in Spanish tourist resorts. In actuality, Coupe Cloue was the nickname of professional footballer Jean Gesner Henri, and later the name of this, his compas-direct dance band. Whatever the origins, it will have the same effect on your dancing sensitivities as soukous. Of an entirely different character is the classic compas "Ayiti Cherie," performed by Ti Coca and Wanga Negess. Charming, nostalgic, entirely reminiscent of a warm summer's evening, this song and a cool drink are all you need to transport you to the Caribbean. Mind you, Haitiando's "Grog Mwen" doesn't take much convincing either. Londoners will be familiar with RAM, who spent a good deal of time here in summer 2001. The track here, "Marassa Elu," a voodoo song, has great choral call and response, with quite heavy guitar punches. The result is something of an anthem – an incredibly uplifting song to be played as volubly as possible.
The accordion features prominently on this album, from the trickle down the spinal chord of Mizik Mizik's beautiful "Blakawout" to its unusual placement amongst the young rappers of Masters of Haiti. The guitar part of Dominican merengue was substituted by accordion in the Haitian version, meringue, which itself was a foundation stone of compas, and this may go some way toward accounting for the proliferation of accordion. It does add an old-style feel to the music, yet another layer of the enchantment.
This is an album with a little bit of everything, but a lot of appeal. The breadth of music on offer is quite staggering, and is carefully chosen to represent the new Haiti along with the old. One can only guess at what the music industry in this country would be like with decent funding.
(World Music Network, 2001)
(World Music Network, 2001)
(World Music Network, 2002)
(World Music Network, 2002)