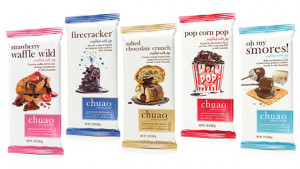 Here in America we like our add-ins, ice cream and candy full of other candy, nuts, random sweets, and sometimes savories. Chuao (pronounced Chew-WOW) has a shelf-load of such, chocolate bars with all the goodies, created by Venezuelan chef Michael Antonorsi.
Most of the bars I tried were terrific but some are more successful than others. Idiosyncrasies of taste may make a difference; when I tweeted about the one I really disliked, someone mentioned that was their favorite, and bemoaned not being able to find it. And it's not entirely fair to stack dark chocolate up against milk, particularly given that my sweet tooth resembles that of a six-year-old's. Still, I present them in order of how much I liked them, from most to least.
First up, the "Baconluxious". Described as "delicate maple sweetness, a sprinkle of bonfire smoked sea salt and crispy, uncured bacon in milk chocolate." This had a nice aroma and when tasted, an immediate smoothness to its mouth feel, followed by a wash of saltiness and not-unpleasant grittiness before the final bacon note, leaving just a few salt crystals to be crunched between the tooth and savored. This was delicious to the point where I thought I would and then did readily pick one of these up again. And probably will again and again.
For the ingredient conscious, this 2.8 oz bar clocks in at 420 calories per bar (the label does the usual this is really 2 servings thing). It is 41% milk chocolate; 67% Fair Trade Certified, which means that up to 33% of it may come from places using child labor or other unfair trade practices. (Looking at these percentages was an interesting exercise; no bar was the same and it's something I'm going to watch for, going forward.) No mention of non-GMO ingredients.
This was followed by the "Firecracker". Described as "sea salt, a dash of chipotle and popping candy crackle in dark chocolate," this had a lovely spicy saltiness that the sharp crackle accentuated, and a nice after crunch, all against a palatable dark chocolate background.
This bar is 400 calories total. It is 60% dark chocolate; marked as ethically sourced cocoa but not Fair Trade Certified, which means that up to 100% of it may come from places using child labor. However, it is non-GMO ingredients.
Both of these were good and so was the "Oh my S'mores". Described as "fluffy marshmallows and crushed honey graham crackers reunite in milk chocolate." This held delightful toffee bits, somewhat sandy graham cracker crumbs, and a valiant but unsuccessful attempt to conquer the marshmallow issue by scattering mini marshmallows on the bottom of the bar, resulting in a layer of projecting marshmallows and air.This bar is 380 calories in total. It is 49% Fair Trade Certified and the marshmallows are specifically non-GMO, while other ingredients are unspecified.
Fourth in line was the "Honeycomb". Described as "luscious organic honey caramelized into crisp bits and enrobed in dark chocolate." This had a surprisingly lovely honey note, very alive, that worked well with the dark chocolate.
This bar is 380 calories in total, and 60% dark chocolate. Ingredients specify that the honey contained in the bar is actual caramelized honey and that bee and honey dipper are not included, no mention is made of non-GMO ingredients. It is 95% fair trade certified.
For example of textual inconsistency of presentation, these little aphorisms are cute but three describe the bar while two don't. The honey one has a funny bit of whimsy in the ingredient list.
We finish with "Pop Corn Pop", which I did not like. The label describes it as "inspired by that familiar flavor you love, with a surprising POP in milk chocolate." This bar had a strong nutty flavor and not much to recommend it; the additions are bits of corn chip, which I found an unpleasant combo, and popping candy, all in milk chocolate.This bar is 420 calories in total. It is not Fair Trade certified and no mention is made of non GMO ingredients.
The variances of text notes like Fair Trade proportions and non GMO ingredients from bar to bar reflects the varied demands of candy-making but does mean that consumers concerned about such things should be careful about reading the label. There are a number of inconsistencies across the labeling that make the overall presentation feel a bit incoherent here and there, but note I am a writer and tend to have strong opinions about these things that do not matter to most chocolate consumers.