I learned that hand pies are universal through my English-foodie friends. It never occurred to me that the "meat pies" I read of so extensively in English novels are actually a version of what we called "pot pies" – those nasty, dry, tasteless things in aluminum tins that cost a quarter, back then, and burned your mouth with their insides while the crust went cold and stale. I loved them anyway. There are a million versions, at least one in every food universe: baozi, empanadas, pithiviers, Natchitoches meat pies, lihapiirakka, tourtières, Hújiāo bǐng, pasties, bánh patê sô, samosas, boy this Google thing is cool, isn't it?
This empanada, I made up because I love chorizo and pie, and my husband loves pie crust. Raw. Srsly. If I didn't set aside at least 1/3 cup of raw dough for him every time I make pie crust, I think he would divorce me.
These empanadas are quick'n'dirty hand pies. You will like them just as much as my Mexican Casserole, but unlike the casserole, this recipe gives you only four to six spicy empanadas with an irresistable flaky, browned-butter crust and a juicy chorizo center. The finite number of empanadas means you can still overeat, but you won't actually pop.
What makes them awesome is, of course, more butter. (I have a tee shirt that says Moar Butter, but I think I need a coffee mug that says that, too. I also put butter in my coffee.) Brush on melted butter before baking, then twice or three times during the baking for an extra-brown, extra-crunchy, buttery crust.
Makes four to six empanadas.
Preheat oven to 350 or 375oF, depending on how brown you like your empanadas.
Filling
1 lb chorizo, nuked 4-8 minutes but not drained

Rich pie crust
2 cups flour
½ c sugar
1 t salt
2/3 cup butter or a bit more (up to ¾ cup)
5 to 7 T cold water
Mix the dry ingredients well. Cut the butter into the dry ingredients until it resembles coarse crumbs. Add cold water sparingly, mixing gently, rather than beating or kneading.
Break the pie dough into somewhere between four and six clumps, depending on how large an empanada you like. Roll out one clump at a time on a floured pastry cloth or floured board. Make rectangles (not squares) about 4 inches x 6 inches, not too thin. Thicker is better.
Spoon the chorizo, with juice, onto one half of each pie dough rectangle. Fold over the dough and crimp it shut with a little water to help glue it together. Place on a baking sheet.
Brush the tops of the empanadas with melted butter. Don't be chintzy with the butter.
Bake at 350 to 375oF 15 to 30 minutes until the crust is brown to your liking.
Hint:
If you can't take the heat of picante chorizo, get the no picante version. The sweetness of the buttery pie crust offsets the spiciness of the chorizo.
______________________________________________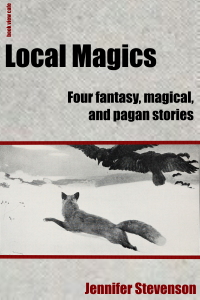 What do vampires and New Orleans cooking have to do with each other? Find out in "Tragesangre," a story in Local Magics, a new collection from Book View Café.
Also in this collection: "Solstice," in which a young guitarist turns the year with her bare hands; "The Riddle Curse," in which the goddess struggles to reunite with her two husbands; and "An Interactive Lecture on the Magical Planet Saturn," in which a dreamer and his magical instructress travel between planes from the Moon to Saturn and home again.