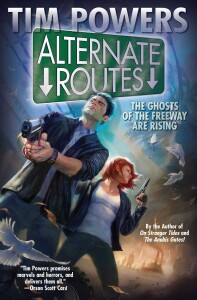 Tim Powers' Alternate Routes provides an uneven but more mainstream fantasy novel from one of Fantasy's greatest luminaries.
Sebastian Vickery has had a better few years. First of all, that's not his original name; he had to change it after a protection detail for the President he was on as a Secret Service Agent went so very wrong for him. Living on the margins, he's aware of the supernatural underside of Los Angeles, specifically the ghosts on and near the freeways.
Ingrid Castine works for a branch of the government also interested in such phenomena … and very interested in the whereabouts of the man now calling himself Sebastian Vickery. Their interest in the ghosts of the LA basin, though, tracks with an increase in the frequency and power of ghostly hauntings. When Sebastian and Vickery are thrown together by circumstance, both will learn what is on the other side of the ghostly freeways, in Tim Powers' Alternate Routes.
Writing about supernatural doings in Southern California is nothing new for Powers, but this novel feels and reads distinctly different than his previous novels set in Southern California and wrapping around supernatural doings – and not always to its benefit. A Tim Powers novel for me is one with magic beneath the surface of our ordinary world that a few people can access. This often ties into a secret history of events that we think we know, but we really don't know the full story until Powers comes along. Characters with hidden motivations that make sense only in the denouement. Lush use of setting and place. Tricks with time, character and perspective. Tim Powers' work isn't as byzantine as, say, Gene Wolfe's, but paying attention and reading closely are absolute musts to figure out what is going on.
Alternate Routes has some of these tricks and twists but not as many as one might expect from a Tim Powers novel. Yes, there are ghosts here, and the central conceit and idea that the ghosts and their afterlife are "powered" by motion on the freeways is a new and interesting idea. But a lot of the other hallmarks that I expect when cracking open a Powers novel are, frankly, not here.
Alternate Routes feels like – and this is a tricky thing to articulate – a much more mainstream and straightforward fantasy novel. It is much more like a standard urban fantasy. It still has touches (like the initial conceit) and there is a briskness to the plot that one does not associate with Powers work. It flows well, and the ebook narration by Bronson Pinchot is excellent. But this is not a Powers novel that encourages or offers any reward for the reader to puzzle out the labyrinth that Powers sets its readers into – because the labyrinth is just not there to be had.
As far as the characters, I am afraid that for me, the characters were not as compelling as I hoped. Castine comes across not well, and for all of her knowledge of working for the Transportation Utility Agency (TUA,) is a second fiddle to Vickery, and sometimes descends into a one-note performance of "Let's get out of here!" (for varying definitions of "here"). Vickery is a more interesting character, although the inciting incident that led to his fall from grace, upon reflection, really didn't work for me. It's teased out in the narrative, but in the end, it felt inadequate to explain why his life got ruined. I was in the end expecting more.
Part of the frustration in reading this novel is, ironically, shown in one of its strengths. For as much as the leads themselves did not work for me and only seem to be engines for the plot to tick along, it is the secondary characters that make this feel like a Tim Powers novel. I suspect that in a more traditional Powers novel, these characters would have had much more life, verve and presence, but we get hints of who they are as is. Mary, the girl who was never born. Santiago, a homeless Mexican boy who lives, even thrives in the liminal world that Vickery has found himself in. Terracotta, the head of the local TUA branch who has secrets and an agenda that are slowly uncovered in the course of the novel. And others as well. The novel really gets its groove, its verve, its Tim Powers-ness when we have these secondary characters on screen, and aside from our visits to the otherworld, it is when Vickery and Castine deal with these secondary characters (or when they become POV characters) that the novel really sings.
I find myself recommending this book to several groups of readers. For the Tim Powers completist, you will want to read this book (first in a series, undoubtedly). Despite the overall tone of this review, there is enough Powers-ness in the novel for an avid reader of his work to pick it up, and given that Baen is not Powers' usual publisher, it is possible that you didn't even know that the novel had come out. (Baen as publisher of "last resort" seems to be a theme as of late, and deserves discussion in full elsewhere). The other set of readers who might most benefit from reading the novel are those who have been intimidated by Powers' reputation and want to try his work in the most accessible way possible. This is definitely, then, the novel that is the least opaque and the easiest for a new reader to Powers –  someone, say, who has read a lot of urban fantasy and is Powers-curious – to start with. Then if this was something such a reader liked, they could move on to Last Call or its ilk.
Finally, given how lightweight the novel is, and given its theme and setting, the audiobook (and only the audiobook, I stress) would make for a pleasant listen on a long driving trip. The narration is top notch, and given that this straightforward Powers, one can listen to and enjoy the book without doing a lot of mental gymnastics to figure out what the heck is going on and keeping one's attention on the road. It's a relatively short novel, so it its doable for a short road trip, or a portion of a longer trip.
However, for readers in the middle, the casual readers of Powers but the non-completist, someone who "knows enough" to be dangerous, this novel may frustrate you as it does me, because it simply doesn't reach the standard set by The Anubis Gates, or Last Call, or Declare, or even Medusa's Web (which I would have labeled the least of his works, prior to this novel). In the end, I found Alternate Routes a skippable Tim Powers novel.
(Baen Books, 2021)