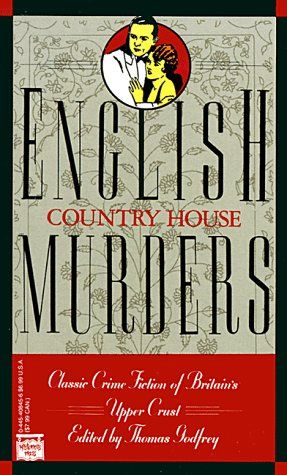 Back some twenty years ago, I went looking for novels that involved murders set in English country houses. It was, in those days before search engines indexed damn near everything on the Net, far more difficult than it would be today. I found a few novels, most from the Golden Age of such novels in the period between The Wars. And most of those I've already read quite some years ago.
I did find on several websites glowing reviews of this anthology, so I tracked it down while in the States as I couldn't find a hardcover British edition — apparently it was available here only in a softcover edition. Now I'll admit that most of the stories here were published between The Wars but it overall has stories published from 1910 to 1964. When most of these stories are set remains a mystery as neither the editor or the writer give us a clue to go on, excepting the Holmes story which starts off by noting it takes place in the winter of 1897. This may or may not speak of the timelessness of the country house society, which changed little over a considerable span of time. That period effectively ended with the last World War after a decline that started with the First World War when the servant class went off to war to the die alongside the sons of those families that owned those Estates.
(Lecturing mode off now.)
What you really want to know is, are these stories worth reading? Well yes they are. Unless you're really deeply read in this mystery genre, I expect the only story you'll have read is the Holmes one, 'The Adventure of The Abbey Grange'. It is, as all Holmes stories are, a splendid tale indeed.
So what else did I particularly like? Well Wilke Collins, a steadfast friend of Dickens's, offers up a brooding affair at a manor house involving a deceptive named Mr. Dark; Emmuska, Lady Baroness Orczy, gives us a castle mystery, something that's rarer than you'd think it is; Agatha Christie has a story that details a country house so well that it could be the model for all the real country houses; and Ngaio Marsh sets a play at one such house where murder most foul happens.
Godfrey has selected stories that are all crackling good, all fine examples of the English country house mystery genre. It's certainly a book that I'll keep for winter nights when short stories like this are what I favour.
(Mysterious Press, 1989)