As I write this review just before Election Day, there have been but two novellas released in the fascinating Sub-Inspector Ferron series "In the House of Aryaman, a Lonely Signal Burns" and "A Blessing of Unicorns".  I'm not sure how I came upon the first novella but it was a superb story, both in terms of the setting and in the characters that Bear has created here, including a parrot-cat called Chairman Miaow.
The first novella, "In the House of Aryaman, a Lonely Signal Burns",  is set a half a century from now. In the city of Bangalore, a scientist working on cutting-edge biotechnology has been discovered inside his own locked flat, his body converted into a neat block of organic material. It's up to Police Sub-Inspector Ferron to figure out the victim's past and solve the crime, outwitting the best efforts of whoever is behind the death, her overbearing mother, and the complexities of dealing with the only witness – an ever so cute parrot-cat Chairman Miaow. (The latter, she says are, as I guessed, a cat with parrot colors and "a parrot-like level of intelligence and ability to mimic speech. 😀 ")
Sub-Inspector Ferron is a member of a private force in a future where the nation-states have been radically balkanized to the point where we have actual city-states.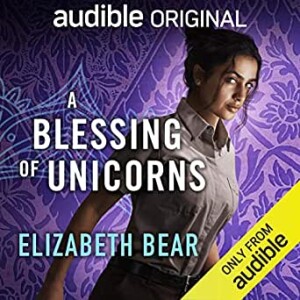 I asked Bear if there would be a novel in the series and she replied "there might be a novel someday but I really need to visit Bangalore myself to write that! I've been relying on friends who hail from there, or who have family there and have visited extensively, but it's not the same as boots in the dirt experience!" Let's hope she gets to travel there once the Pandemic is better managed, as it'll be a fascinating novel.
These are mysteries so I'll say naught about that aspect of them beyond what I said above, as you should enjoy finding out what happens. What I will say is that their being set in a Hindu culture some fifty years in the future in a world that's managed to survive ecological disaster and reach both environmental and technological stability is fascinating. I've lived in that part of our global culture and Bear gets the details quite right.  Listening to them, I felt back there.
I'll note that the stories aren't freestanding, so "A Blessing of Unicorns" builds off of "In the House of Aryaman, a Lonely Signal Burns" and must be listened to after the first story is experienced. (At this time, the latter story only exists as an Audible audiobook though Bear says it will be an ebook after the Audible exclusive expires.)
Together they make up a fascinating look at the life and work of Ferron as a Police Sub-Inspector in a polity where there are no national or regional police forces. No, it's not some small libertarian wet dream here, but a real work with real world consequences to everything that happens. There is certainly more than enough story here for her to someday write a novel set in the universe. And I look forward to listening to it.
(Audible Studios, 2018 and 2020)