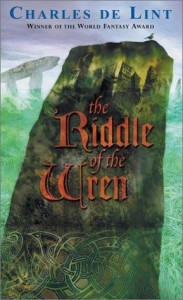 Naomi De Bruyn penned this review.
If one chooses to, one can go back and find the time when any author was unknown. For Canadian fantasist Charles de Lint, that time was at an end with the release of Riddle of the Wren, published by Ace Fantasy in June of 1984, with a second printing in March of 1985. This novel is very hard to come by, but well worth the effort of searching for, as I well know. I spent years haunting used book stores, only to run across it last spring by pure chance. And I almost overlooked it, noticing it only on the second glance through the 'D' section. My patience was well rewarded with the wonderful journey this tale took me on.
Riddle of the Wren is actually the second book that Charles de Lint ever wrote. The Harp of the Grey Rose was the first he finished writing. The first book published was De Grijze Roos ("The Grey Rose:" collection), Een Exa Uitgave, trade paperback, Belgium 1983.
In Riddle of the Wren, we find a much different approach than we are used to seeing from de Lint. It is a tale of high fantasy, although still woven with his lyrical prose, which at times seems to flow with a life all its own. It reaches out almost spell-like to entwine about, and entrance, the imagination.
The protagonist, a heartbreakingly innocent young lady named Minda, is thrown headlong into the proverbial battle of good versus evil. In this case good takes the form of Huorn the Hunter, while evil is convincingly portrayed by Ildran the Dream-master and eater of souls.
Each world has a magical gateway in the form of Standing Stones, or Menhirs, which Minda is able to open. Using the Standing Stones, Minda travels from world to world, with death and destruction hot on her heels. A battle that threatens to rip apart the delicate cloth of reality, as woven by de Lint, it spreads throughout the many realms like a dark tide.
Minda gains many allies as she moves from world to world, sometimes only a breath in front of Ildran. Sadly, some of these allies even perish for her and her cause: to free the 'Heart of the Moors' from his wrongful imprisonment by Ildran. The final battle, however, is still one that Minda must fight alone. A very simple riddle for the Wren to solve. And solve it she does, but the story does not end there, far from it in fact. Minda has learned much of herself, and of the workings of the worlds. She has a new life to begin.
This is a fanciful tale on the surface, but with de Lint's mastery of subtleties, he creates many sub-layers within which to delve. It can be read again and again, seeming slightly different each time. I recommend losing yourself within its pages — if you can find a copy. Meet a very different, yet disconcertingly similar, Charles de Lint.
Even in this, his first novel published in North America, there are overtones of what he is to become with time — a master, or perhaps the master of urban fantasy. I admire his ability to find magic within the mundane and to share it with an appreciative and ever-growing audience. I have yet to be disappointed by a de Lint work.
(Ace, 1984)