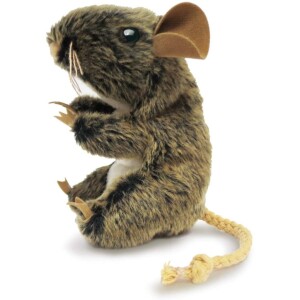 The entry for the Mini Brown Mouse Finger Puppet at Folkmanis' website reads: "The Folkmanis Mini Brown Mouse finger puppet is a pocket pet perfect to surprise your unsuspecting friends."
I can see it.
This little guy (barely four inches long, plus tail) is pretty adorable: soft brown plush with little felt ears and four little felt paws, and beady little eyes. It's a plump little mouse that fits over a finger. I suspect the younger set (it's recommended for ages three and up) would get a lot of giggles from pulling it out of a pocket to surprise their friends (or an unwary adult). It comes without the usual label with a story, so for story time you're on your own.
The workmanship is up to Folkmanis' usual standard; the fur is soft polyester, washable with cold water, but be careful of the tail, ears and paws, which are felt.
All in all, it's a charming little mouse, and potentially a lot of fun.